Clausens Kunsthandel, Studiestræde 14 (1.sal), 1455 København K

Johanne Foss er repræsenteret på Clausens Kunsthandels hjemmeside. Klik på kunsthandelens bomærke.

Johanne Foss is represented on the homepage of Clausens's Art Gallery in Copenhagen. Click on it's logo above.

---
Søg i denne oficielle oversigt over 111 værker af Johanne Foss på danske museer. Klik på logoet ovenfor.

An official database showing 111 works of art made by Johanne Foss in Danish Museums. Only in Danish. Click on the logo above.

---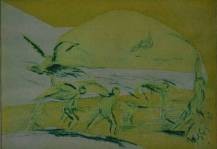 Børn på højslette. Koldnål og akvatinte. Lesotho 1982.

Se en oversigt over 15 værker af Johanne Foss indkøbt af Rudersdal Kommune. Klik på tegningen ovenfor og søg på kunstnernavn.

A database with 15 works of art by Johanne Foss that the Rudersdal Municipality owns (Danish language only). Click on the drawing above and search for artist's name.

---